Reviews
Customer Reviews
30/06/2020
Phil J.

United Kingdom
I recommend this product
Who loves ya Bobal...
This is 100% Bobal (grape), it's from Spain (Manchuela Region) and it's £11.95 and 14% abv. It's juicy, herby, oaky and powerful yet it's still quite lively and fresh, and not at all dense. Wow. Having tried my first Bobal some months ago, this one came recommended by our good friends at Cheers Wine Merchants and I'm only now getting around to sampling it (although in my defence I was distracted by a very good Garnacha from the same bodega). Bobal is a native grape of Valencia going way back to the 15th century, and whilst it was previously used to beef up mass produced blends, a few producers are now focusing on the grape's own qualities and the results are interesting. Bodega Altolandon add to that story with a site which is 1100metres above sea level and an organic approach which delivers a natural, vegan, low sulphur, oak aged wine from hand-harvested crops. Do you love it yet? OK, first off, decant it. It's a bold red, it's young and it's punching at 14% and there is no way this is not going to improve with a bit of time to breathe. I would say give it an hour at least but I always like to sneak a cheeky glass to see what it's like straight out of the bottle. Short answer, super juicy. This bottle also had a little (harmless) sediment at the bottom so decanting also cleared that aesthetic blip. In the glass: It's a lovely deep red with that violet/purple depth which looks delicious. After a quick swill around the glass the legs eventually form, big slow moving legs, no less than you'd expect from a wine with this abv. On the nose: Layers of substance, black fruit, spice, oak, herb they are all there combining in one warm pleasant aroma. Very nice. To taste: For me this is a classic 'Spanish Red'. Powerful and a bit brash straight out of the bottle but leave it breathe and it develops magnificently. It starts off as cranberry, tobacco, herb and black fruit, all really fresh but still big flavours, all punchy and fighting for dominance. Even straight out of the bottle this is not a heavy wine, it's just a bit too lively, so if you want a more refined wine just leave it breathe for longer (and 3 hours is not too long). The fruit comes more to the fore and all the flavours smooth out beautifully to a plum/tobacco/liquorice combo which still holds that bit of spice, with tannins and acidity fully in check (and it is still not a heavy wine). Fantastic, 9/10. Now if the tax man could just let me have it a bit cheaper....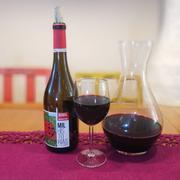 Why customers buy from Cheers
Eco-friendly packaging
Fast, reliable delivery service
Family run since 1983
No minimum order quantities
Packed with love and care
Top 50 UK wine retailer