Reviews
Customer Reviews
10/01/2021
Peter M.

United Kingdom
Lovely and fruity
Lovely and fruity. Would buy again.
28/06/2020
Phillip J.

United Kingdom
Great value Rhone wine
It's Saturday and this is a treat wine. Key words are Paul Mas, Languedoc, GSM... and Oof. At just shy of £13 and 13.5% abv you are getting a good quality wine here. On the nose: there are no outstanding or unusual qualities, it's just good, all good. Rich fruits and a lovely spice /alcohol base. To taste: Same again. It's a really nice GSM. Fruit, spice, chocolate, a little tobacco, there's loads going on in here and it's all balanced superbly. Just draw it over your tongue and relish it. Forget tannins and acidity this is super smooth on the palate with a medium to long peppery finish. Real quality and I'm glad I bought two of these. Cheers.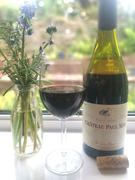 Why customers buy from Cheers
Eco-friendly packaging
Fast, reliable delivery service
Family run since 1983
No minimum order quantities
Packed with love and care
Top 50 UK wine retailer