Why customers buy from Cheers
Established since 1983
Reliable UK delivery service
No minimum quantity limits
Top 50 UK Independent Wine Retailer
Family run wine business
Free delivery on £100+ orders
Wine subscription options available
Very competitively priced
Need help or advice? Call us on: 0800 999 4895
Reviews
Customer Reviews
03/01/2021
David H.
United Kingdom
I recommend this product
Usual!
Great! Order, delivered no problem!
15/12/2020
David H.
United Kingdom
I recommend this product
Lockdown Wine
I bought a bottle of Pasquiers on a special offer, and loved it. At the beginnibg if lockdown I ordered 6 bottles Red, 6 Rose. Then 12 Red 6 Rose, and recently 12 & 6! Obviously very happy!
30/06/2020
Phil J.
United Kingdom
I recommend this product
Great value all day long
One of the most widely planted grape varieties in the world, Grenache (or Garnacha as it is known in Spain) is massively popular in France, putting the G in the GSM (or Rhone blend). This wine is from the Languedoc region (South of France), it's produced by Pasquiers and its 100% Grenache. As a grape, Grenache is known to produce wines which are light in acid, tannins and colour and this is a good example of that. On the nose: it's pleasant enough, it's black fruit, spice and a little herb /floral aroma that I can't place. To taste: you get beautiful black fruit and the lack of acidity and smoothness of the tannins make this extremely drinkable. Add that peppery Rhone spice, a hint of clove and a nice earthy, tobacco like note and you have one seriously moreish drink, but be warned, at 14% abv it will kick you in the pants. In summary, it's a light medium, with a smooth Rhone style and it costs just £7.45 making it exceptionally good value. Would I buy it again? I've literally just placed my next order with Cheers Wine Merchants and it has three of these in it...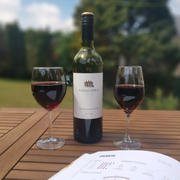 Why customers buy from Cheers
Established since 1983
Reliable UK delivery service
No minimum quantity limits
Top 50 UK Independent Wine Retailer
Family run wine business
Free delivery on £100+ orders
Wine subscription options available
Very competitively priced
Need help or advice? Call us on: 0800 999 4895