Reviews
Customer Reviews
28/06/2020
Phillip J.

United Kingdom
I recommend this product
Excellent Spanish Garnacha
This is an interesting one, Garnacha (in Spain) aka Grenache (in France), a widely planted and well respected grape whether as part of a 'rhone blend' (GSM) or on it's own. This is a Spanish wine produced just inland of Valencia and like a lot of modern wines it is organic and veggie /vegan friendly. On the nose: A warm, rich fruit and spice aroma but very understated. To taste : I could write two reviews on this. The first glass was a little cold but instantly reminiscent of a nice Cotes du Rhone with fruit, spice, pepper and tannins to the fore but well balanced. Nice, but... With time to breathe and warm up the second glass was more complex and more satisfying. The red fruit flavours find their feet in the mix, the tannins are a lot more rounded (still there but more cumulative - building on the aftertaste with each taste) and any acidity serves only to produce that smooth finish. The winner for me though are the subtle oak, clove and chocolate flavours that appear and make this a really classy drop of wine. Great value at £11.95.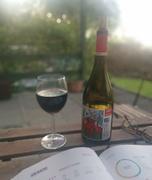 Why customers buy from Cheers
Eco-friendly packaging
Fast, reliable delivery service
Family run since 1983
No minimum order quantities
Packed with love and care
Top 50 UK wine retailer